Interview by Sophia A Jackson
We caught up with Stephenson Ardern-Sodje who takes on the role of Simba in the UK and Ireland tour of The Lion King.
Can you share some of your earliest memories of going to the theatre?
SAS: I grew up in a little town called Shrewsbury in the West Midlands and we had a small theatre in town. I remember these shows would come into town with these amazing people doing amazing things - it felt like they were people from another planet.
What was the moment when you realised you'd caught the acting bug?
SAS: I've been acting for as long as I can remember. Growing up, I was one of the only non-white kids in my school which makes you stand out. I was very energetic; I was curious and it was a nice way to channel that energy. It was a way for people to understand me and I felt very understood on stage.
When did you get your first big break?
SAS: I was singing in a choir and somebody posted in the WhatsApp group that Hamilton the Musical (London) were having open auditions, so I sent a video of me singing and rapping and got called in and got a recall. Then another recall and they gave me a week to learn 12 songs, which was kind of crazy. I was at work with my headphones in and spending all day listening to the Hamilton soundtrack. I got down to finals but they said because I'd never done anything else before, professionally, they were not sure if it was the right time for me but they wanted to keep in contact with me. Then they asked if I would consider training. So, because of the specificity of Hamilton with the lyrics and rapping they sent me to the Royal Academy of Music. It was a one year Masters and I did the first two terms and then somebody in Hamilton needed to go on Paternity leave so I graduated early and they pulled me out to go and be in the show. I made my West End debut covering Hamilton which was great.
How does it feel to be playing such an iconic and much-loved role as Simba?
SAS: It feels incredible. It feels unreal. I saw the show for the first time and I was blown away. I was about 10-years-old and with so many people, I grew up with the film. I think for every young black boy - and the same with every young black girl who looks at Nala - it is the role. It's the role that you look at and you go 'imagine'. More importantly, it's the role that you see yourself represented in. To be able to step into those shoes – I feel like a torch bearer. Thinking about the Simba's that have come before and the Simba who I saw and now that torch has been passed to me. It feels epic in the truer sense of the word.
What does The Lion King mean to you personally?
SAS: I am half Nigerian on my dad's side and Nigerian culture is vibrant and it's very loud and very emotional. Music is such a big part of Nigerian culture alongside community and family. This show represents so much of that to me. There are of course lots of Africa inspired sounds and there's beautiful traditional African music interwoven with the amazing modern score but there are so many moments of real black joy that you don't really see anywhere else in the West End or many other places in theatre. For me, it kind of does feel like a reconnection with that side of my family. Also, it's great to take that to people who have never experienced that, in places where you wouldn't usually experience that type of production. It kind of reminds me of those touring productions that I saw when I was a kid and now I feel like I'm on the other side of that big gap. I kind of want to make all those young kids out in those towns and cities know that this could be their life, too.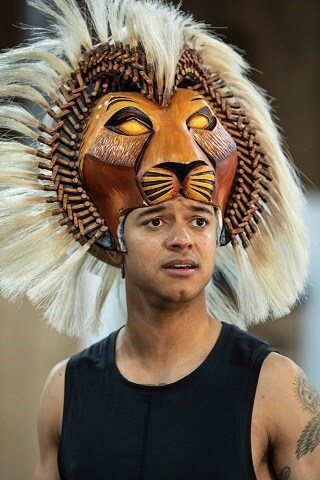 Stephenson Ardern-Sodje wearing the Simba mantle.

What methods did you put in place to bring out the vulnerability, naivety and innocence of playing Simba?
SAS: Some people might look at the show and think Simba is your usual Disney prince because he's very confident and has that confidence that you imagine goes with being a Disney prince. Actually, he does have a lot of vulnerability, self-doubt and self-criticism. Really it's something that all of us feel and now more than ever after having a year and a half of not doing the thing that I trained for. There's a lot of vulnerability in me - and I'm sure with so many other people - and I think it's actually a really perfect role to come back from the pandemic with because Simba starts in the place that I'm starting, too. A place of uncertainty, of retesting things with the body, the voice, the mind in terms of whether or not we can still do what we thought we could do. I think Simba is a character who goes through that journey, so I'm fortunate to be able to go through that journey with him and come out the other side as he does – stronger and full of self-belief and hopefully, I can bring that into my own life as well.
How will you approach the process of learning to move like a cub?
SAS: Coming out of the pandemic, we've all just been walking the circle of our living rooms and so it's a zero to 100 in terms of knowing what I'm about to face. I've been back in the gym, doing a lot more cardio. What was an illuminating experience was my final round of auditions, they brought the Simba mantle (the headpiece) in and they asked me to put it on and it is both metaphorically and literally, heavy. You put it on and suddenly, if you're not connected with your body and not connected with yourself, it feels weighty and it feels unbalanced. But the moment that you centre yourself and the moment you find the balance within – you can't help but lift your chest and bring your body up because you have to have that. I put it on and was a bit like Bambi on ice. They gave me a minute and I found my footing and my physicality. I suddenly felt like a lion.
What's your favourite song that Simba sings?
SAS: He Lives in You, is the song for me. It's the culmination of Simba's journey, he's been through hardship, he's been through self-doubt and self-criticism and a lot of negative emotion and he has to make the decision as to whether or not he's going to follow on down that path or he's going to find a way to pull himself up. It's the moment of pure release of joy for him. It sums up Simba's entire journey for me in that no matter how far off track you get, you can always find your way back home. If there's something that people can take away from coming to see the tour, I hope that's it.
Why should people come to see The Lion King on tour?
SAS: Because places outside of the West End rarely get to see a show of this size, scope and scale. It is a truly epic performance that still features such a touching and personal story. We've come through a really difficult time, we've had so much uncertainty, so much doubt and sadness in our lives and The Lion King is a show about joy, release and community.


The Lion King is touring the UK and Ireland in 2022! Secure your tickets today and book with Disney's official box office, Disney Tickets.