When he was ten years old, Shak Gabbidon-Williams made his professional debut in Disney's The Lion King as Young Simba.
He remembers a whirlwind year of excitement and lots of travelling due to the fact he was living in Oxford at the time.
"It was really hectic, though it was probably more tiring for my parents than for me," he recalls. "I remember sleeping in the car on the way home from performances so I was ready for school the next day. I didn't mind though - I had more than enough energy!"
It could easily have been a missed opportunity for the young Shak. He auditioned several times and didn't get the role, only for a teacher to encourage him to keep going. When he finally got the part, he remembers it was a rather surreal moment. "I had driven to pick up some chickens for my mum's cousin, so when I got the news I celebrated with the chickens, who didn't have a clue what was going on."
But the word soon spread and his classmates came on a coach trip to see him. He laughs as he remembers running down the aisle after the stampede scene, only to hear his friends whispering "Shak, Shak" from the seats near the back.
He will no doubt make many more memories when he rejoins the show as a member of the Ensemble, as well as covering the role of Adult Simba. It's an opportunity he describes as a "dream come true". He's also excited to reunite with Shaun Escoffery, who was in his first year as Mufasa when Shak was last with the show (he has since clocked up 12 years with the show). "It was really nice to have someone who made you feel comfortable and became a mentor."
Like many former child cast members of The Lion King, Shak has gone on to enjoy a successful stage career. He recently toured with Hairspray, including a stint in his hometown, and has played legends such as Marvin Gaye (in Motown) and Temptations lead singer David Ruffin. "I've been lucky to play lots of people I look up to, people I consider icons," he says.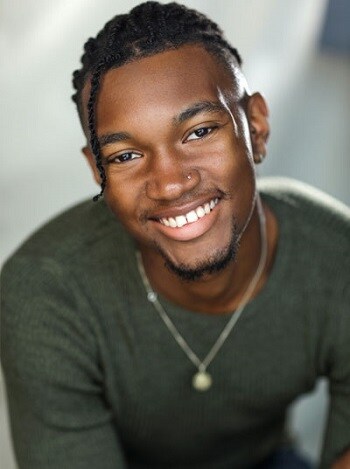 Shak Gabbidon-Williams
"The reason I am where I am today is completely because of The Lion King"
But it all started at the Lyceum Theatre. "I was born the year after The Lion King film came out, and I used to watch it religiously," he reveals. "So it was just such a massively exciting moment for me to appear in the show, it was mind-blowing really… The reason I am where I am today is completely because of The Lion King."
His career hasn't always been straightforward though, especially recently. Like many actors he found work hard to come by during the pandemic; before going into rehearsals for The Lion King he was working in a pub. He reveals he nearly "fell out of love" with theatre entirely, until staging a solo concert reignited the spark. "All those feelings came flooding back, and I realised how much I missed performing and interacting with live audiences."
He recently spoke out on social media about racism he experienced at drama school, in the wake of the Black Lives Matter movement. But rather than being recriminatory, he is determined to lead by example. "I really want to help open the door," he says "so the next generation of black actors don't have to open doors, they can just walk straight through."
For someone who's still only 24, Shak is just getting started. But he remains firmly grounded. Before every show he has an imagined conversation with his grandparents to inspire him. "I ask them to wish me luck and guide me through the show, if that makes sense." It certainly does - and in fact, it seems highly appropriate considering The Lion King's emphasis on remembering and honouring our ancestors. He credits his grandparents with encouraging his career early on, and helping him "stay on the right path".
He says a song he is especially excited to be performing is the reprise of "He Lives in You" when Simba is inspired by those who've gone before. Another of his highlights is the frantic stampede scene, which he performs as part of the ensemble. "I love everything about that moment in the show - it's so high energy," he says. "And of course 'Circle of Life' is just amazing, it blows my mind every time."
"There's no substitute for hard work"
He reveals that when he's backstage he likes to try and retain focus and "stay in my lane". This helps him to deal with the often frantic pace of activity in the wings, and ensure he stays in character. But the real secret? "Something I learned when I first joined the show - there's no substitute for hard work."
This is a message he's keen to impart to others who might want to follow in his footsteps. "Hopefully I'll be able to inspire other kids to start of their own journey. You have to set your goals and go after them. The only way you can let yourself down is by not giving it your all."
It certainly seems fitting that the first role Shak will play after so long away from the theatre will be the one that started him on the journey in the first place. He is anticipating it will be highly emotional when the Lyceum reopens and the opening bars of 'Circle of Life' echo out over the audience once again. "There's so much life and colour in that moment," he enthuses. "I'm actually envious of the audience that they get to watch it!"
The Lion King is now back in the West End. Secure your tickets today and book with Disney's official box office for The Lion King, Disney Tickets. Seats are now available from just £23.50!