Janique Charles plays the role of Nala, the fiercely loyal lioness in the West End production of THE LION KING. We caught up with Janique to hear her thoughts on playing this iconic role.
When people think of The Lion King's Nala, there are a few things that come to mind. As a cub, she's known for her playful yet headstrong nature to her spirited connection with Simba. But as she grows up to become a fiercely loyal and headstrong lioness, we witness the evolution of a character coming into her own, while supporting Simba's ascent to greatness.
"Nala was definitely a role model to me and I think for young girls across the board," says Janique Charles, who plays Nala in The Lion King in London's West End.
While the focus of The Lion King is often directed towards the familial and ancestral connection between Simba and the Pridelands, we witness Nala's very own growth as we see her tackle the difficulties of adulthood while embracing her inner strength - something that Charles was drawn to when taking on the role in the famed stage production.

Janique Charles discussing the role of Nala
"Nala embodies loyalty, a sense of duty and justice to her people," says Charles. "Not only is she a fierce warrior, but she's loving, caring and she is a multifaceted character and really reflects who we are as human beings."
Charles' own appreciation for Nala came after seeing The Lion King for the first time.
"I thought wow, this is a powerful character"
"When I first saw the musical theatre version of the show I was absolutely blown away by Heather Headley's performance of Shadowland," she explains. "It was really emotional and struck a chord with me. I thought wow, this is a powerful character. The way she portrayed it, the way the music was written - it gives me chills whenever I think about it."

Janique Charles performing 'Shadowland'
This moment became defining for a young Charles, who would go on to audition for the show and make the move from Trinidad to London to join the ensemble and was cast as Nala in 2017.
"When I flew from Trinidad and Tobago to join as an ensemble cast member, I would watch on and thought this is incredible. I was an understudy at that time and I thought I have to get to perform this role," she says.
Since taking on the role four years ago, Charles says she continues to learn more about Nala as the years go on.
"I've definitely taken some of her values into my own personal life"
"It's really an incredible role to play and for the number of years I've played it so far in West End, I've learnt a lot," she reveals. "I understand who she is and I've definitely taken some of her values into my own personal life and how I see myself as a strong woman."
Charles says Nala is an example of a character who comes into her own after Scar takes over the Pridelands and creates a life of oppression for those within it. Her feisty nature which burnt so bright as a young cub manifests itself in the courage and bravery she exhibits as she grows up and chooses to rebel against Scar's regime as she leaves the Pridelands in a bid to save her home. In the midst of her search for food and hope for better days, she finds Simba and assists him in reclaiming the throne - even at a time when he didn't want to.
"One thing that struck me is when Nala leaves everything to find a solution for what's going on back home in the Pride Lands, she finds Simba in the wilderness and it's almost like he rejects her," she says.
"Not on purpose but because of his own issues, she doesn't get the answer that she wants. And I've come to find that in life you're going to get a lot of no's, a lot of people shoving you down, a lot of people disappointed over your expectations. But in the story, Nala doesn't let that faze her necessarily. She left her home on a mission to find some kind of saving grace for her pride because that's what she cared about and even though she had the door slammed in her face, she still told herself ok fine, that's not working - I'm still going to figure this out.
"Nala could've very well done it herself but she knows 'there is no I in team' and it would take a collective effort to do something," Charles admits.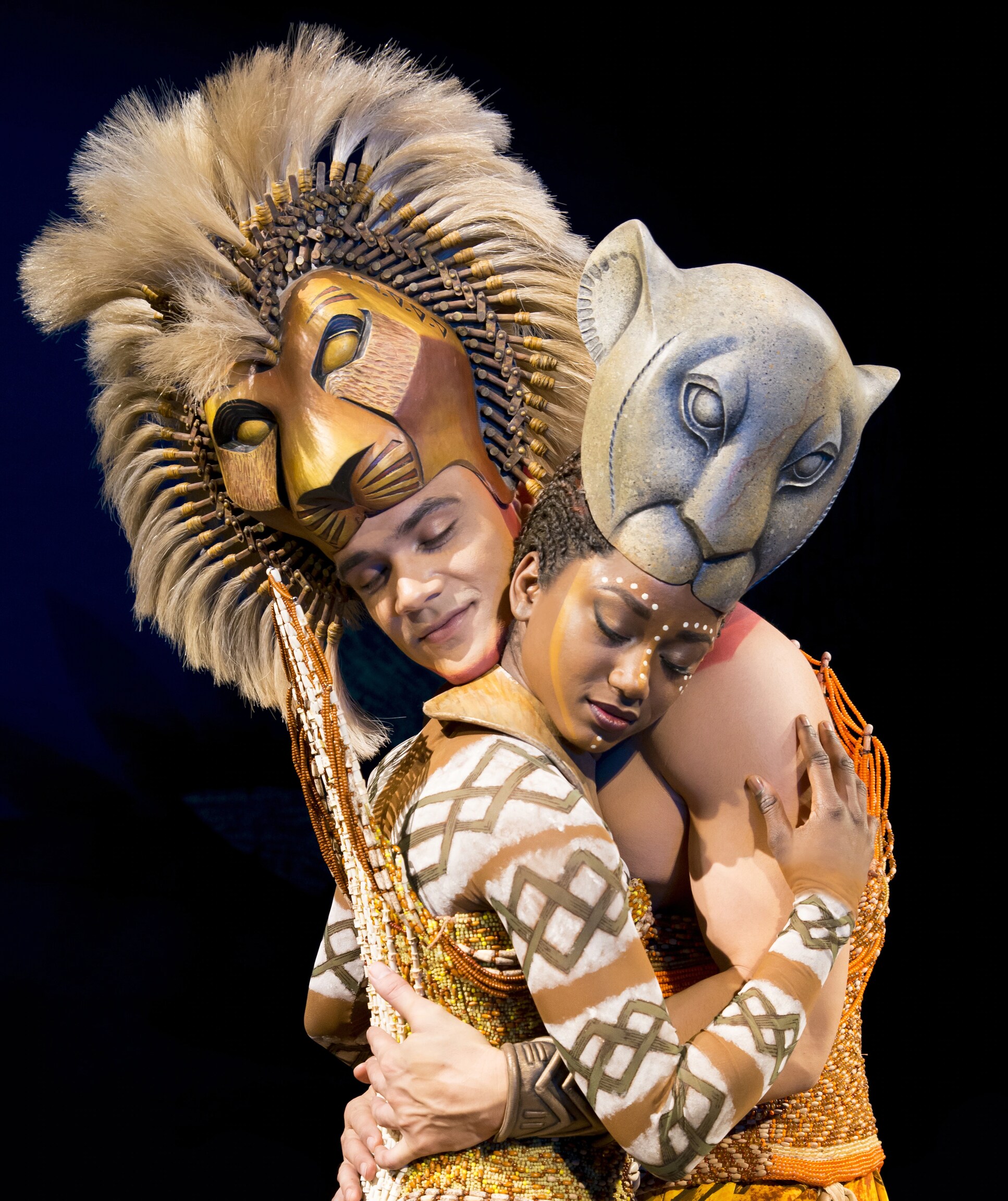 Nala's story - from a mischievous cub to a triumphant heroine with a deep desire to protect what is important to her - is something many can relate to. She embodies female empowerment and what it means to be a strong leader and strong woman - and this is reflected heavily in the performance, from her story down to the physical activity it takes to play such a role.
"It's a very physical role and I'm also a very physical person but coming into this show, I realised to do this every single night, I need to be strong and healthy.
"It's not just about doing the dance moves but singing while you're doing it and telling the story without running out of breath. So I would go to the gym every other day, work on my strength training, flexibility, take ballet classes, jazz classes - I even do gymnastics."
Strength is a key element of Nala's character, from her ability to tussle with Simba as a cub to her decision to leave home and ultimately becoming a catalyst for change as she encourages Simba to return home and save the Pridelands from Scar's reign.
"Nala is extremely brave and strong and vocal about her beliefs"
"Young Nala was a really fun character and the adult Nala is extremely brave and strong and vocal about her beliefs - there's a lot that we can all learn from her."
See The Lion King return to the West End at London's Lyceum Theatre from the 29th of July 2021. Seats are now available for this Summer and beyond from just £20 with Disney Tickets.