Secret Cinema will be taking their award-winning immersive approach to new heights when they tackle Marvel's Guardians of the Galaxy.
Creative Director Matt Bennett is keen not to give too much away, but confirms that plans for the production are at a level of sophistication that is impressive even by their standards. Bennett and his team, together with Marvel, have come up with a new storyline involving The Collector's plot to reek revenge on the Guardians. He describes it as "an entirely new adventure", and it sounds worthy of its own film.
For the uninitiated, Secret Cinema started in 2007 and offers audiences the ultimate cinema-going experience. Attendees are invited to dress up and get into character, and get involved in a range of themed scenarios and adventures prior to the film screening. Previous hits include epic productions of Moulin Rouge!, Casino Royale and Star Wars: Empire Strikes Back, which was so popular it made it to the top of the UK cinema box office charts.
"I just got swept up in it."
Bennett initially joined the company on a part time basis to help on Star Wars, but quickly discovered it wasn't the sort of gig you can do one day a week. "I just got swept up in it," he says with a smile, "and haven't looked back."
Planning for the productions can take up to a year, involving a team of over 50 people. Venues change for each one and are usually 'found' spaces, such as abandoned warehouses. The range of experiences on offer is vast, but always in keeping with the film (or TV show, in the case of the recent Stranger Things). For Romeo + Juliet, they staged a huge dance battle between the Capulets and Montagues; for Moulin Rouge!, they recreated the bohemian streets of 1899 Montmartre.
"An experience they will never forget."
"People love it so much because it really is like being in a film," says Bennett. "We put so much thought into every detail – it's a never-ending pandora's box of detail." The plans for Guardians of the Galaxy are truly mind-boggling, and it's all aimed at giving audiences "an experience they will never forget".
This includes tailoring each encounter to fit a participant's personality. "We have many, many different adventures for audiences to go on across multiple settings," he says. "You could end up in a crazy dance off, or helping to break a code, depending on how much you want to perform."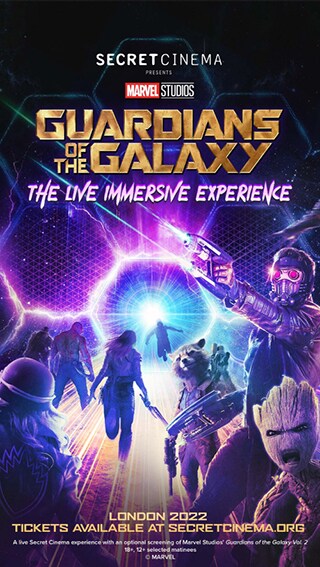 Secret Cinema Guardians of the Galaxy Poster
There's an environmental message in Guardians too. Audiences will be invited to bring along an item from home and reuse it as part of the story, rather than "buying some new piece of plastic junk". Bennett says this felt in keeping with the original film, which centres on the attempts of Peter Quill (played by Chris Pratt) and his band of misfits to save the universe from destruction.
He emphasises that Secret Cinema is always looking for ways to reflect the themes of the chosen project. There are several key considerations when deciding on a production, and it starts with the fans. "It doesn't work unless the audience know the characters, and also want to be that type of person." Guardians of the Galaxy is a perfect example, with its array of space pirates, superheroes and anthropomorphic animals.
Another important factor is where the story is set, and whether it can be recreated with sufficient believability. "We look for really self-contained worlds," says Bennett. "Ideally you don't see the joins between the sets – for example space is really good with Guardians because it's all one texture."
He emphasises that Secret Cinema wants audiences to "believe they're really there". It's much more than an exercise in dressing up, requiring real imaginative investment and a willingness to improvise. With this in mind he is thrilled by the opportunity to open the experience to younger audience members. "We spend a good chunk of each week trying to evolve back into our childhood selves and work out what a 12 year-old is going to enjoy. We're really excited thinking about how we can crack this world open to them, with all of its different layers."
The partnership with Disney and Marvel marks a big step for Secret Cinema, and they are currently looking at a number of future collaborations. "It's the biggest film catalogue in the world," enthuses Bennett, "and we have an unprecedented number of R&D [research and development] projects on the go."
"Get ready to blast off on an amazing adventure."
But all that is for another day. For now the team are focusing on making sure that Guardians of the Galaxy delivers. How would Bennett encapsulate this latest gravity-defining production in a nutshell? "Gather your misfits together," he replies, " and get ready to blast off on an amazing adventure. Finally you can stand alongside the Guardians and fight to save the galaxy."
So, just another ordinary night out…!
Visit Secret Cinema: Guardians of the Galaxy at Wembley, London. Secure your tickets today and book with Disney's official box office, Disney Tickets.