Get ready to be dazzled by the best of London's West End theatre scene! From must-see shows to hidden gems, our theatre guide has got you covered.
Are you dreaming of a London getaway and craving a taste of the vibrant West End theatre district? Don't worry, we've got your back!
Widely regarded as the theatre capital of the world, the West End is a must-visit destination for any musical lover, where captivating performances and iconic venues bring dreams to life. From long-standing classics such as The Lion King to modern masterpieces such as Frozen, there's something for everyone to see.
In this comprehensive guide, we'll walk you through everything you need to know to make the most of your West End visit. Whether it's helping you to select the perfect show or assisting with finding the best day tickets, we're here to ensure that your theatre experience is nothing short of magical.
Why is the West End so popular?
West End district and its significance in the world of theatre
As a dazzling epicentre of theatrical magic, London's West End is the city's entertainment hub. It's packed with dozens of theatres and playhouses, hosting exceptional productions from established as well as up-and-coming playwrights. Here, the stage takes on a life of its own, and you'll find yourself immersed in a world full of excitement and wonder.
One of the world's most iconic theatrical hubs
Located in the heart of London, the West End is home to world-famous venues such as the Lyceum Theatre, Theatre Royal Drury Lane, the London Palladium and Dominion Theatre. These venues have witnessed the birth of countless plays and musicals that have gone on to touch the hearts of audiences worldwide.
A popular tourist destination
Not only is the West End a theatre lover's paradise, but it also holds a special place in the hearts of tourists who flock to this vibrant district year after year. Millions of visitors from around the globe come to witness the magic first-hand, soaking up the electric atmosphere and experiencing the sheer joy of a live performance.
A bustling hub for theatre professionals
Beyond its allure for theatre enthusiasts, the West End is a bustling centre for professionals in the industry. This creative hub attracts actors, directors, and producers from around the world, who are drawn by the boundless opportunities to collaborate and stage exceptional productions.
From the unforgettable melodies of musicals to the gripping plots of plays that leave you on the edge of your seat, the West End has been home to some of the most successful productions in history.
A place to explore a range of culinary delights
For food enthusiasts seeking a delightful gastronomic journey, this area of London draws you in with its diverse and enticing culinary landscape. From cheap eats to Michelin Star restaurants, London's West End has a range of dining options to suit every palate and wallet.
You can indulge in some of the best Chinese, Indian, Italian, and French cuisines or try authentic British dishes at the local pubs. The West End is also home to some of the best cosy cafes so that you can sip on a refreshing drink either before or after your next show.
A place to soak in some culture before your West End play
If you have an hour or two to spare, there are numerous ways to make the most of your time in London's lively West End.
Why not seize the opportunity to explore some of the city's famous landmarks? For example, you could take a ride on the London Eye and enjoy breathtaking views, delve into the rich history of the Tower of London, or marvel at the grandeur of Buckingham Palace.
For a comprehensive city adventure, you could hop on a London bus tour, or if you're in the mood for a touch of sophistication, journey to the top of The Shard and soak in the magnificent views.
To top it all off, you can also go for a leisurely river cruise aboard the Circular Cruise Westminster – time it at sunset for the most serene experience!
The West End also offers an abundance of world-class museums to visit. The British Museum, National Gallery, Tate, The Wallace Collection and The British Library are all either a short walk or bus ride away from Theatreland. And if you're looking for more of a wild affair, then ZSL London Zoo and the SEA LIFE London Aquarium are both close by too.
No matter where your interests lie, the West End has got you covered with a wealth of activities to choose from.
Top London West End theatres
With 39 theatres and a wide variety of shows, musical lovers are spoilt for choice when it comes to seeing the latest productions in London. From the grand Theatre Royal Drury Lane to the historic charm of the Lyceum Theatre, these renowned venues are ready to whisk you away into captivating worlds.
Here's a list of the top London West End theatres and venues that you won't want to miss.
1. Lyceum Theatre
The Lyceum Theatre first opened in 1834 and has been a beloved venue ever since. Today, it's where you can watch Disney's The Lion King, a world-renowned musical that has been running here since 1999.
The Lyceum Theatre is the perfect setting for this breathtaking production, with its grand stage, stunning architecture, and state-of-the-art sound and lighting systems. You'll be delighted to see your favourite characters brought to life on stage using incredible costumes, beautiful music, and mesmerising choreography.
Watch in awe as giraffes strut, gazelles leap, and birds swoop, bringing the Serengeti, and the story of Simba, to life all around you.
Seating capacity: 2,200 seats
Address: 21 Wellington St, London WC2E 7RQ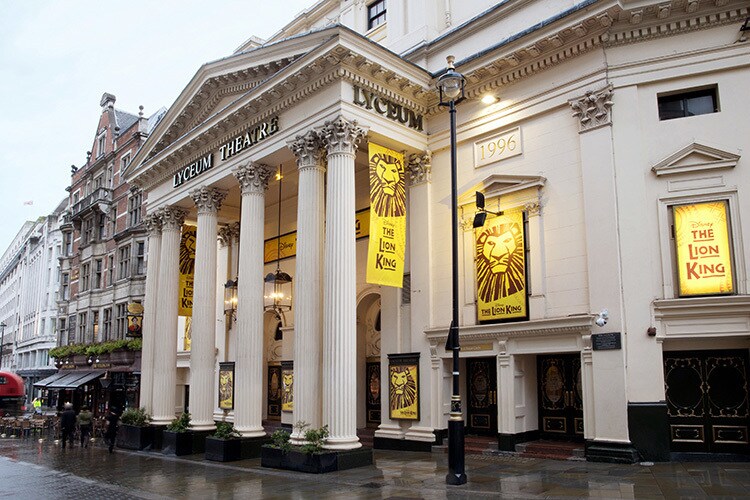 Lyceum Theatre
2. Theatre Royal Drury Lane

Theatre Royal Drury Lane is a historical venue that has been a hub for entertainment since the 1600s. Located just off Covent Garden, it has hosted countless productions across the years, from Shakespearean plays to modern musicals.
One of its current standout shows is Disney's Frozen, the sensational hit musical that has enchanted theatre-goers of all ages here since 2021. With its breathtaking sets, memorable melodies, and remarkable cast, this production whimsically transports you to the magical world of Arendelle.
Seating capacity: 2,196 seats
Address: Catherine St, London WC2B 5JF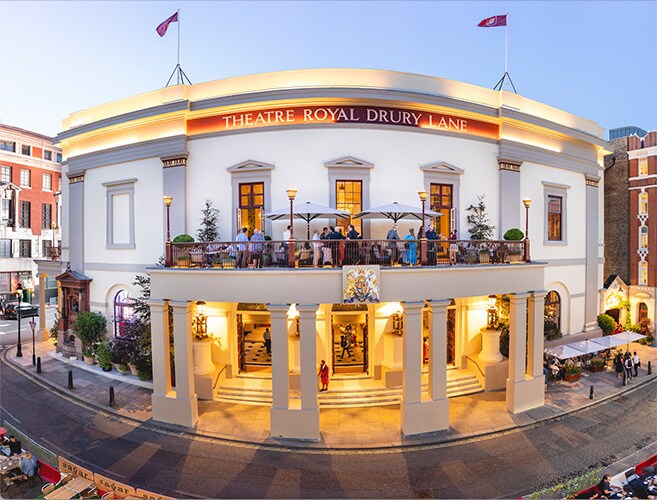 Theatre Royal Drury Lane
3. The London Palladium

Located on the edge of London's vibrant Soho district, just a short walk from the bustling hub of Oxford Circus, The London Palladium has been an integral part of the entertainment scene since it first welcomed audiences over a century ago in 1910. This legendary theatre has hosted some of the world's most famous performers and shows and continues to attract audiences from all over the globe.
One of the most beloved productions from recent years was Disney's Beauty and the Beast . This timeless tale of love and redemption charmed audiences throughout the summer of 2021 with its stunning sets, costumes, and performances. And, with a diverse range of productions being showcased here throughout the year, The London Palladium is an absolute must-see for anyone looking to experience the magic of theatre in one of the world's most historic venues.
Seating capacity: 2,286 seats
Address: 8 Argyll St, London W1F 7TF, United Kingdom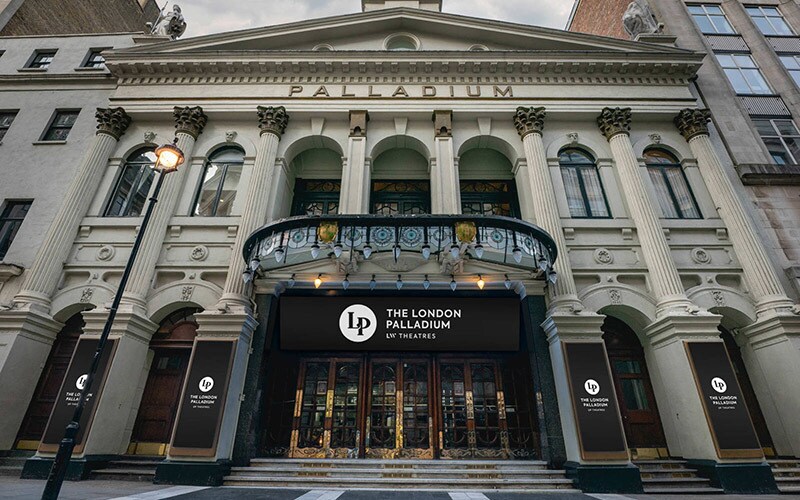 The London Palladium
4. Prince Edward Theatre

Prince Edward Theatre opened in 1930 and is situated on Old Compton Street, just north of Leicester Square. Host to some of the most incredible shows in the past, the venue is a gem in the heart of London. From the spellbinding Mary Poppins to the dazzling Aladdin , this place has seen it all.
So whether you're a passionate theatre-goer or just looking for a memorable night out, the Prince Edward Theatre is sure to leave you with a smile on your face and a song in your heart.
Seating capacity: 1,650
Address: 28 Old Compton Street, London, W1D 4HS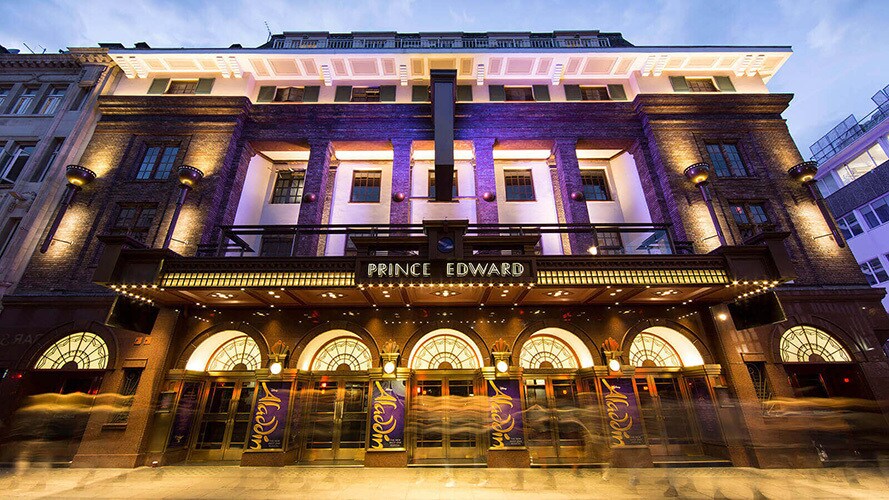 Prince Edward Theatre
And that's only just the beginning when it comes to exploring everything the West End has to offer. Shaftesbury Avenue shines as the most renowned street in the district, proudly showcasing six prestigious theatres, each with its own distinct charm and allure. There's the Apollo Theatre, Gielgud Theatre, Lyric Theatre, Palace Theatre, Sondheim Theatre, and Shaftesbury Theatre, all gracing this vibrant and glamorous stretch in Soho.

Did you know?
The smallest theatre in London's West End
Among the renowned theatres in London's vibrant West End, the Arts Theatre claims the title of the smallest theatre in the area. With only 350 seats, it offers an intimate setting where audiences can truly connect with the performers onstage.
Following closely behind in the rankings are the Fortune Theatre and Ambassadors Theatre, with seating capacities of 440 and 450, respectively.
...and the largest theatre in London's West End
The English National Opera's London Coliseum boasts an astonishing seating capacity of 2,359. Meanwhile, The London Palladium, another prominent theatre in the West End, has a whopping 2,286 seats, promising a grand experience for all who attend.
Must-see West End shows
Whether you're drawn to the allure of thought-provoking plays, the enchantment of Broadway-style musicals, the joy of family-friendly shows, or the festive cheer of pantomimes, the West End has it all.
Can't decide which West End show to watch? Don't worry, we're here to help! Check out this hand-picked list of must-see West End shows that are bound to leave you utterly enchanted.
1. The Lion King
Lyceum Theatre, London
Prepare to be swept away to the Pride lands with Disney's The Lion King. Bursting with vibrant colours, breathtaking effects, and enchanting melodies, it brings Simba's awe-inspiring journey to life onstage.
From his innocent days as a curious cub to his noble destiny as the rightful King of the Pride Lands, this long-running production has been enchanting audiences for over 20 years.
BOOK TICKETS for The Lion King at the Lyceum Theatre, London.
2. Frozen
Theatre Royal Drury Lane
Ready to "let it go"? Disney's Frozen whisks audiences young and old away to a world of frosty enchantment for a tale of courage, love, and the importance of sisterhood. At the Theatre Royal Drury Lane, you're invited to join the courageous Elsa, spirited Anna, and their beloved friends as they perform all the memorable songs from the animated movie – plus some original musical numbers too.
BOOK TICKETS for Frozen the Musical at Theatre Royal Drury Lane in London.
Planning your West End theatre experience
Getting best value tickets for the London West End shows
When it comes to obtaining the best value tickets, Disney Tickets offers a seamless and convenient solution.
Group tickets
Disney Tickets offers the option to purchase group tickets, making planning a memorable stagey outing with your friends, family, or colleagues much easier. Whether you're celebrating a special occasion, organising a school trip, or simply enjoying a group gathering, the hassle-free process of acquiring group tickets ensures everyone can experience the magic of the London West End together.
Day seat tickets
With Disney Tickets, you can also access Magical Mondays tickets. These become available every Monday at a much cheaper rate for shows later in the week, making it a fantastic option for those seeking last-minute tickets.
Bear in mind that these tickets sell out quickly, and you will have a limited time to purchase them. As a top tip, we highly recommend logging in early and having your card details ready for a smooth checkout process.
Things to know before your West End show
To ensure that you have the best experience possible, there are a few things you should know before heading to the West End.
Be prepared: Take some time to learn about the show you'll be attending, including its history and key characters. This will enhance your understanding and allow you to immerse yourself fully in the magic of the performance. Don't have time beforehand? Pick up a programme and have a flick through!
Book in advance: Don't leave it to the last minute! Popular West End shows tend to sell out quickly, so it's wise to secure your tickets in advance.
Arrive early and savour the pre-show delight: Give yourself ample time to settle in and find your seat. By arriving early, you'll avoid feeling rushed and ensure you have a comfortable and stress-free experience. It also presents the perfect opportunity to indulge in a delightful beverage or two.
Dress comfortably: Speaking of comfort, dress in clothes that allow you to relax and enjoy the show without feeling restricted. You'll be sitting for a while, so opt for something that's easy to move in. However, you should also feel free to get dressed up if you please – make it a night out to remember!
Enjoy yourself: Above all, remember to have fun! The whole point of attending a West End show is to enjoy a captivating performance. So, sit back, relax, and let yourself be swept away by the magic unfolding before your eyes. And while you're at it, remember to take a stroll through the shop, where you can discover exclusive merchandise to commemorate the experience.
And there you have it!
We hope this comprehensive guide has given you a little taste of the West End and what to expect from your next visit.
Whether you're a passionate theatregoer, wide-eyed tourist, or aspiring theatre performer, the West End is ready to welcome you with open arms.
Want to learn more? Check out our London theatre matinee schedule to see what shows are available during the day – ideal for younger guests. And for those looking to enjoy some theatre nearer home, explore our selection of shows touring across the UK.