Winnie the Pooh occupies a truly special place in the hearts of millions of children, and no-one is more aware of this than actor-writer Jake Bazel, one of the team behind Disney's acclaimed new musical adaptation of the iconic bear's adventures.
"There is so much humanity in these stories," he says. "They're about community and friendship, and trying to make the best of the situation that's in front of you. It's so beautifully written and there are so many layers to them. When you read them as a child you see one thing, then you go back as an adult and see something entirely different."
Bazel, who played the title role on Broadway and was involved in the writing of the show, has been an aficionado since childhood. He reveals his first ever involvement with theatre was a puppet production of Winnie the Pooh in New Jersey, when he was just nine years old. "I've spent a lot of time in the Hundred Acre Wood – it's a place I keep coming back to."
Winnie the Pooh: The New Musical Adaptation premiered at Theatre Row in New York in 2021, where it broke box office records for the largest advance. It brings to life AA Milne's beloved characters including Winnie, Christopher Robin, Piglet, Eeyore, Kanga, Roo, Rabbit, Owl and Tigger.
Bazel was brought on board to help develop the show by renowned adaptor and writer/producer Jonathan Rockefeller, who also directs the production. "Jonathan knew I was a huge fan of Pooh, so when the script was in development he brought me in to help shape some of the dialogue so it felt true to the story and the characters."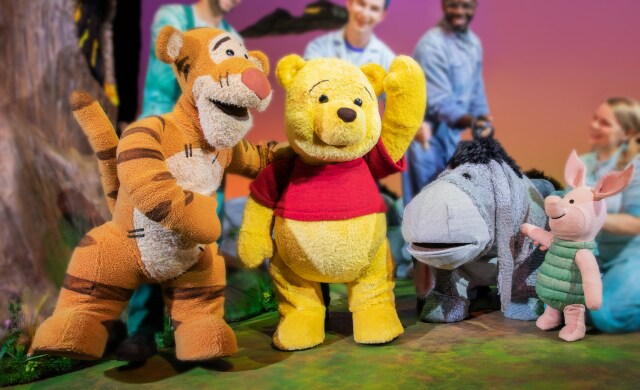 Tigger, Winnie the Pooh, Eeyore and Piglet puppets
"It's been a wonderful joyride."
Bazel subsequently found himself reading the role of Winnie, alongside a life-sized puppet, in a script reading in front of Disney executives ("no pressure," he jokes). That was in 2018, and three years later he was playing it on stage. "I was incredibly fortunate to stay with the production throughout the process, and to work in both in its development and an actor-puppeteer. The original Milne books have long been a north star for me in terms of the kind of work I want to make in my career, and I never thought that would mean actually working on Winnie the Pooh. It's been a wonderful joyride."
He says that the aim of the production is to feel both "familiar and fresh", in order to satisfy longstanding fans of the stories and newcomers alike. "We started with a list of things you need to have in a Pooh story," he explains. "There are certain things that just have to be in the show – someone getting stuck (in a tree), someone losing honey, Tigger bouncing – then we found ways of taking those moments and giving them fresh light."
The show is inspired by the classic Disney featurettes alongside Milne's stories, and includes Sherman Brothers classics such as "The Wonderful Thing About Tiggers" and "Winnie the Pooh". The score, by Nate Edmondson, also features Milne's "The More It Snows", with music by Carly Simon, and a new arrangement of "Sing Ho", from Piglet's Big Movie.
"There are decades of music to choose from," says Bazel. "The show is centred around those iconic Sherman brothers songs, but there are a few surprises in there as well. As with the films, the music forms a really necessary part of the fabric of the show."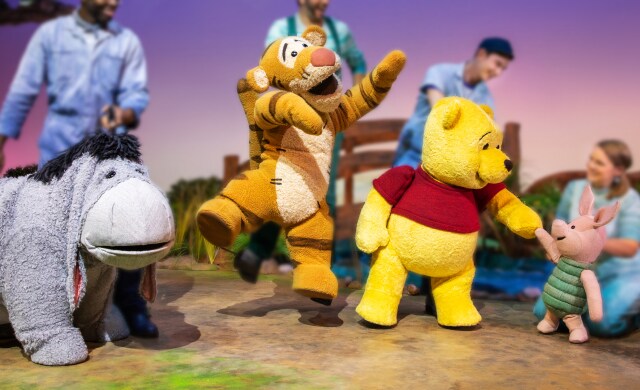 Tigger, Winnie the Pooh, Eeyore and Piglet puppets
"The set is gorgeous and also tactile, it's just like stepping into the Hundred Acre Wood."
Another factor was working out how to evoke the Hundred Acre Wood on stage. After all, it's centrally a landscape of the imagination. Bazel explains the director's aim was to do it as grounded as possible, without relying on digital projection or video screens. "The set is gorgeous and also tactile, it's just like stepping into the Hundred Acre Wood. To me, being the show, it felt like being Christopher Robin playing with his toys. Children get completely immersed in it."
Bazel describes it as "an enormous warm hug of a show, that transports you to a simpler, wonderful imaginative place." And this lifelong fan is especially excited about the show coming to the UK. "I get chills thinking about it. It's going to be such an incredible moment to bring Pooh back home."
Find out more about Winnie the Pooh: The New Musical Stage Adaptation, coming to the UK.