Jonathan 'J' Vaught is a Senior Vice President at Feld Entertainment that manages all Disney On Ice Productions. As a creative director and former performer, Jonathan tells us more about the magic and logistics of the performances on ice.
Since its inception 40 years ago, Disney On Ice has become nothing short of a phenomenon, a staple of family entertainment that has been seen in venues around the world. It's estimated that over 300 million people have seen a production worldwide.
Keeping the show on the road - or rather, on skates - these days is Jonathan 'J' Vaught, a man who knows more than most about what is involved. That's because Vaught, who is Senior Vice President of Touring Productions and Operations at Feld Entertainment, which manages all Disney On Ice productions, used to be on the rink himself.
"I started as a performer back in 1985," he says. "I played various roles on tour for 15 years, before moving into creative direction. So I understand the effort and the reward that these shows involve, both as a performer and behind the scenes."
Like many of the performers he now employs, he started in professional skating before moving into Disney On Ice. He says it provides the ideal grounding. "Ice skaters typically compete for many years and focus on certain things that make them great competitors. It requires great discipline and dedication and a willingness to put in hard work, and we continue that training but take it in a different direction."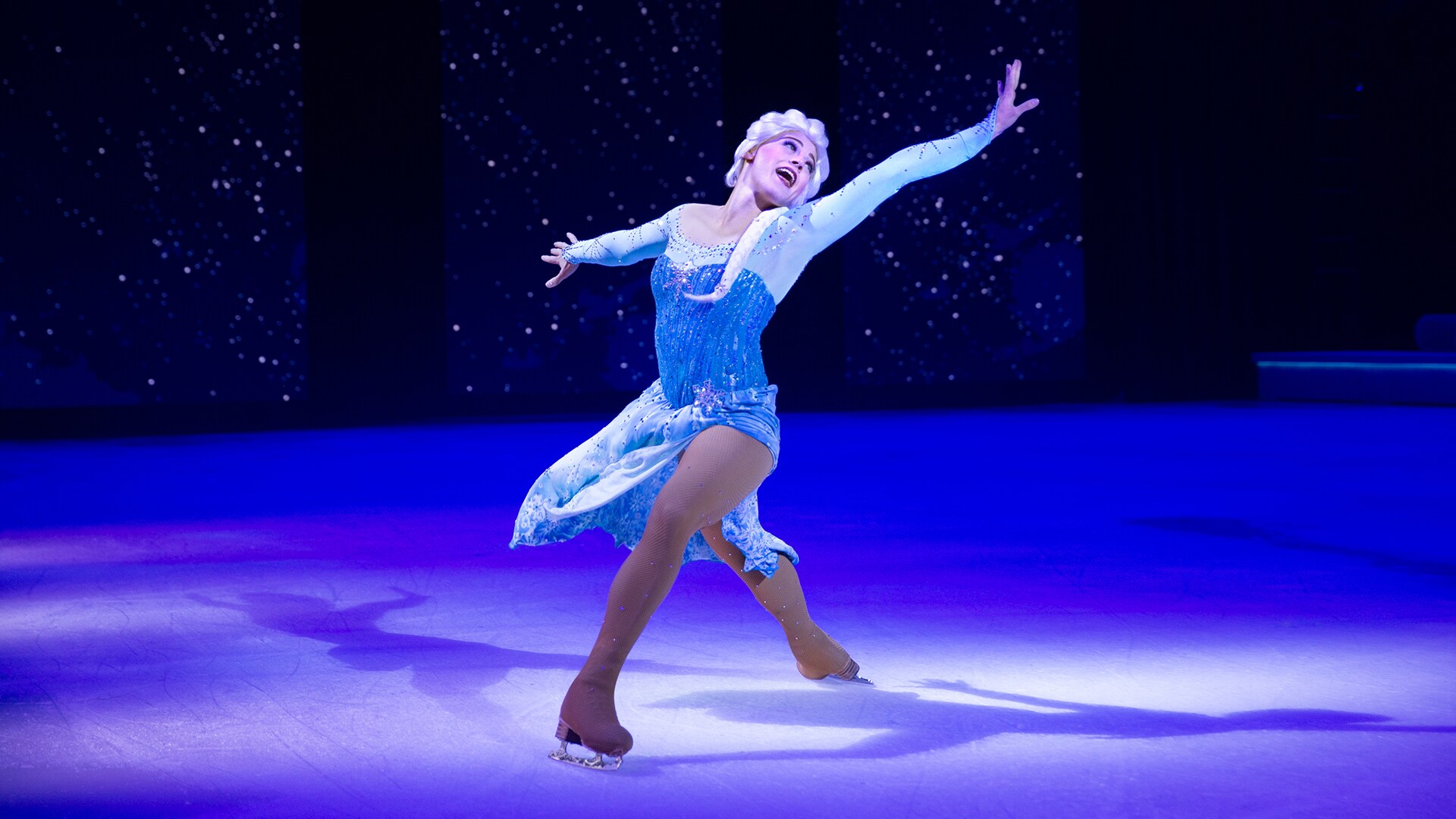 Elsa from Frozen in Disney On Ice: Find Your Hero
The level of skill shown by the performers is something to which anyone who sees a Disney On Ice show will attest. The range of moves typically seen in a performance spans dancing, figure skating and acrobatics. Then there is the fact that they must also embody a much-loved Disney or Pixar character, be they Elsa, Aladdin or Woody. "We work a lot on character development," explains Vaught, who is based at Feld's headquarters in Florida. "We really try to help them bring their character and their stories to life so that it's a complete performance."
This rigour extends behind the scenes as well. Vaught oversees a team that manages up to ten shows concurrently (though they were paused during the pandemic), all of them with different logistical demands.
"We don't always play dedicated ice arenas."
For some, that can even mean creating an ice rink from scratch. "We don't always play dedicated ice arenas," says Vaught. "We've played convention centres and even pop up temporary venues. In those instances, we can and do install our own ice floor, which certainly adds some steps to the process and sometimes some technical challenges, but we've been doing it long enough that we can always overcome them."
It takes a team of ice technicians 36 hours to create an ice floor from scratch. It requires around 10,500 gallons (48,000 litres) of water to make, and the floor weighs an eye-watering 58 tons - the equivalent of about 30 midsize cars - when frozen. This is because the ice needs to be at least two inches thick, otherwise the skaters could crack it.
But the effort is always worthwhile, says Vaught, because ice makes such a great medium. "It's the speed of movement through space, and the grace and beauty, which just make for amazing performances."
And it's not just on the surface where they focus their attention. "One of the things that we've really been working hard at is not confining the performance to just the floor," he adds. "We have these amazing arenas and they're 3D spaces. So we have so much opportunity to take full advantage of that by incorporating aerial performances and theatrical flying. We really do want to take advantage of the full canvas that's provided."
"I could choose to either sit there and watch her or go and skate myself."
His passion for the shows is clear to see. But it could have all turned out very differently. Vaught only discovered his love of the ice after taking his little sister to skating lessons. "I could choose to either sit there and watch her or go and skate myself, and after a while, I discovered I was actually enjoying the athleticism and the speed of it. And so from that point forward I was hooked. She stopped skating and I kept going."
These days he gets just as much satisfaction seeing other performers thrilling audiences as he once did. The ensemble all get to play several different roles over the course of a season, something that Vaught says helps them stay fresh and test out a range of different skills.
Another bonus is that the company get to travel far and wide. Vaught in fact met his wife, who's from Southampton, while touring the UK as a performer, and has a very special affection for the country. "We've played shows in a lot of different venues and the British audiences are fantastic. They're great Disney fans - they know the stories, they know the songs, and they don't hesitate to sing along and we love that."
"That reminded me of everything that's great about what we do and why we do it - to make those memories."
He says it's the high expectations of audiences that are the "northern star" for every On Ice production, as they strive to keep exceeding them. And the payback is getting to see the reactions. "I will never forget seeing a dad and his daughter, who was wearing a Moana dress, and when Moana came on the floor the little girl just lost it, and dad was literally losing it as well," he recalls. "It just was a moment I will never forget, that reminded me of everything that's great about what we do and why we do it - to make those memories."
Vaught, whose office contains some of the many awards On Ice shows have won over the years, is aware that he has had the good fortune to turn his passion into his job. He credits the many coaches and mentors that helped him along the way and is proud to now be taking that role himself.
Does he still get out on the ice? "Every once in a while I'll throw skates on," he laughs. "Late one evening after rehearsals are finished, or early one morning if just have a few minutes, I might go out there to remind myself. But then it hurts and I remember why I stopped!"
See 'Disney On Ice: Find Your Hero' from October 2021 onwards across the UK. Tickets are now available to book with Disney Tickets.