Courtney Stapleton shares her journey to becoming a leading lady at the West End as the intelligent and strong-willed bookworm, Belle, in Beauty and the Beast the Musical.
Courtney Stapleton, who plays Belle in Disney's all-new production of Beauty and the Beast, says the cast have become like a "second family" during the show's extensive UK tour.
She was nervous about joining the show. She considers herself to be shy, and someone who "doesn't make friends easily". But her fears were unfounded. "You never know what you're going to get in terms of the people you do a show with, but I think we've been really lucky. We all live and work together and support each other. We're really close."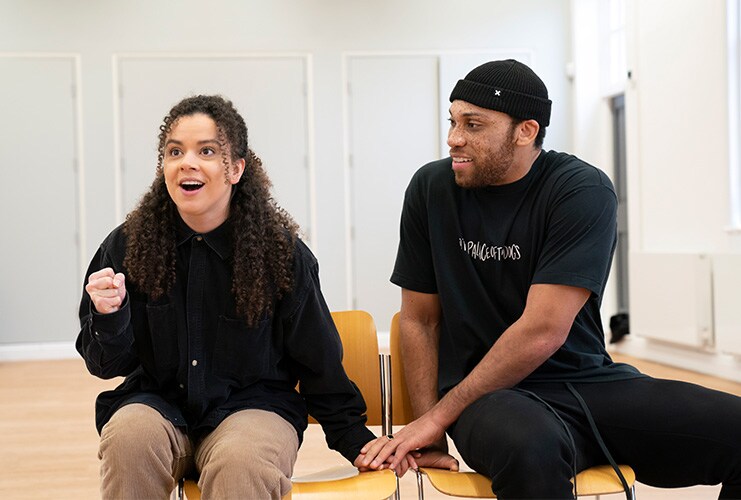 Courtney Stapleton as Belle and Shaq Taylor as Beast in rehearsal for Disney's Beauty and the Beast - Photo by Johan Persson

Stapleton admits the role of Belle is not one she would have envisioned herself playing a few years ago. However, as she has got to know the character, she has discovered some surprising similarities. "It's that funny thing where you find yourself in a character, and also find the character in you," she says. "There are lots of qualities Belle and I share. I wasn't really expecting that, so it's been a really nice discovery."
It helps that director Matt West, who worked on the original Broadway production of Beauty and the Beast back in 1994, has encouraged the company to bring the show bang up to date. As a result, Belle has developed a lot more edge. "She's now quite feisty and very strong-willed. She knows what she wants and she's intelligent enough to know how to get it."
"Belle is Disney's bookworm"
With World Book Day just around the corner, does she consider Belle to be a book lover? "100 percent – Belle is Disney's bookworm," says Stapleton. "I completely understand her love of books. I think for her it is about escapism, because she's stuck in this town where she feels she doesn't belong. When she reads a book her imagination takes her to where she wants to be. I can completely relate to that."
When she was younger, Stapleton was particularly fond of the Harry Potter books as well as Roald Dahl, citing Danny, the Champion of the World as her favourite. "I don't know why but I was obsessed with that book. Even as an adult, and this is quite embarrassing, I've been known to ask my partner to read it to me to help me sleep. If I'm struggling, I know she just has to start reading it and I'll be asleep like that. I just find it so comforting."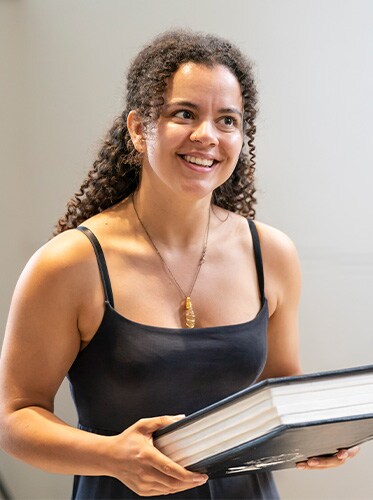 Courtney Stapleton as Belle in Disney's Beauty and the Beast rehearsals - Photo by Johan Persson
Her other love as a child was dance, and she specialised in ballroom and latin. But then she started to take an interest in her school musicals, and quickly realised she had a talent for acting and singing as well. "I remember giving a performance of 'A Whole New World' at school. I was terrified, my parents said I was so green they thought I was going to be sick on stage! But I got through it and then I just felt 'ok, I want to do this now.'"
She subsequently joined her local drama group, the Hazlitt Youth Theatre in Maidstone, and then successfully auditioned for a place at ArtsEd drama school in London. Her first professional job was in the ensemble of Mamma Mia!, and she has since clocked up credits in Les Misérables, Six and Dear Evan Hansen, among others. Not bad for someone who is not yet 30.
"I'm so grateful for the journey I've had"
"I've basically worked my way up every rung of the ladder," she says. "It's been very hard at times. I'm sure anybody who has been an understudy or a swing will tell you how difficult it can be – but I'm so grateful for the journey I've had. It really makes me appreciate the work I'm doing now."
This summer, Beauty and the Beast will play at the renowned London Palladium, a venue with a very personal history for Stapleton. "Last time I was in the Palladium I was working front of house," she reveals. "When they told us [the show was going to be playing there], I just couldn't believe it."
"Being a leading lady in the West End is the ultimate dream"
Did she ever imagine back in the days she was ushering that she would one day be up on the stage herself? "I possibly thought I might get on the stage, but never as a lead. I've so often been a swing or an understudy, so this whole experience for me has been like going from zero to 100. When you decide this is what you want to do, being a leading lady in the West End is the ultimate dream, and for so long I thought it was never going to happen to me."
What advice would she give to anyone hoping to follow in her footsteps? "I would say concentrate on you, because it's easy to be distracted on what other people are doing," she replies. "You can feel very defeated sometimes, but just focus on you and keep going. Because even when you don't 100 percent believe in yourself, there is someone else who will. And that one chance is all you need to get to where you want to be."
Stapleton's is the story – or, dare we say it, tale as old as time – of someone for whom hard work and dedication has paid off. Much like Belle, she may have had to wait for her dreams to come true, but it has been well worth it. With this in mind, she says her favourite moment in the show is when she stands at the top of the stairs in Belle's iconic yellow dress. "I can hear this audible reaction from the audience, and I think about how many little girls are out there wearing their own yellow dresses," she says. "I know that they're thinking 'that could be me one day'."
Beauty and the Beast the Musical is touring the UK and Ireland in 2022! Secure your tickets today and book with Disney's official box office, Disney Tickets.