Matt West is the Director and Choreographer of 'Beauty and the Beast the Musical', currently touring across the UK. We caught up with Matt to discuss his long-standing career at Disney and the new production.
Matt West's long association with Disney goes right back to childhood, when he got scouted to play Peter Pan in a production that toured around the USA. Before long he was choreographing television shows for the company, and then later, after an extensive career as a dancer, became a key player in Disney's decision to go to Broadway.
"I'd been trying to persuade Michael Eisner, who was Disney CEO at the time, to give the go-ahead for a Broadway show," he says. "He finally called shortly after Beauty and the Beast came out in 1991, and said 'could this work'? He kind of threw down the gauntlet and it just went from there."
Fast forward three years and the production, which featured West's choreography, premiered at Broadway's Palace Theatre, marking the start of Disney's long-running love affair with the Great White Way.
That original production of Beauty and the Beast would go on to run for 13 years and become the tenth longest-running show in Broadway history, firmly laying to rest Eisner's initial doubts. And it has proved perennially popular with audiences ever since.
"When I think of the shows I've been in on Broadway, such as Fiddler on the Roof, A Chorus Line, The Music Man, Hello, Dolly! - those are major shows, and we made it to number ten on the all-time list," says West. "That's kind of heavy to deal with, in a good way."
"We decided to start over, to completely reinvent it."
Now, 30 years since that initial conversation, he is taking charge of a brand new production that is receiving its world premiere right here in the UK.
"We decided to start over, to completely reinvent it, partly because we are all better now than we were back then," says West with a grin. "It has been a fantastic opportunity to really dig into every aspect of the show, from the script to the choreography and the costumes."
He adds that part of the aim was to make the production more fitting for today's audience. "We wanted to modernise it, but in a very careful and respectful way. After all it is hugely well known, it's the number one licensed production of all time. So it was more about giving it a modern flavour."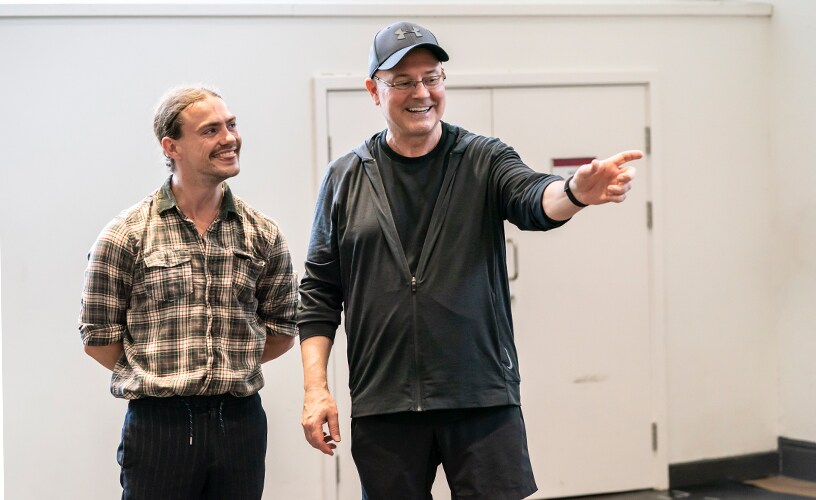 Louis Stockil as Le Fou in Disney's Beauty and the Beast rehearsals with Director and Chorepgrapher Matt West - Photo by Johan Persson

Some of the updates go to the core of the story - the relationship between Belle and the Beast, for example, which has been tweaked to "be true to where we are now as a society" - whereas others are intended to add a lighter touch, such as changing the character of the Wardrobe from "an opera singer to a gossip".
West also noticed that some of the physical comedy from the original production had dated and needed to be looked at. "Gaston and Le Fou were sort of a Punch and Judy duo, and we realised that certain gestures they made to each other just aren't appropriate for a family audience anymore. Kids are taught not to act that way, so why should they?"
He says he has enjoyed the opportunity to "make the production my own," while collaborating again with members of the original production team, including book writer Linda Woolverton. "One of the nice things about removing some of the slapstick is that the audience is now laughing more at Linda's clever writing," he adds.
"For me, they have set the bar from now on."
West has also relished working with the UK cast. "They bring a humanity to the piece that we've never experienced before," he says. "I think by clearing out some of the weeds in the show, we have been able to find some more serious moments in the piece. These exquisite actors have brought a seriousness that was needed. For me, they have set the bar from now on."
He has high praise for British audiences, which he describes as being particularly "savvy", making them a great "barometer" for a new production. He says that when he sits in a matinee audience surrounded by enraptured children, totally fixated on the stage, "that's when I know I've done my job".
Parents often come up to him and tell them how much they enjoyed the show when they were young. "It's a thrill that it means so much to people that they can still remember it after all these years," he says. "They can even tell me what all the differences are."
"I loved performing, and I do miss it..."
Does he ever miss being up on the stage himself? "I loved performing, and I do miss it, though eight shows a week is a lot - I don't think I could dance anymore. But maybe someone will write a part for me in a play, I'd never say never!"
He says that part of the joy of directing is being able to see young performers doing moves that he would now find impossible. "You can kind of point where you want the leg to go and then the leg just goes there. I love that. Also, just seeing your own work up there is a different kind of thrill."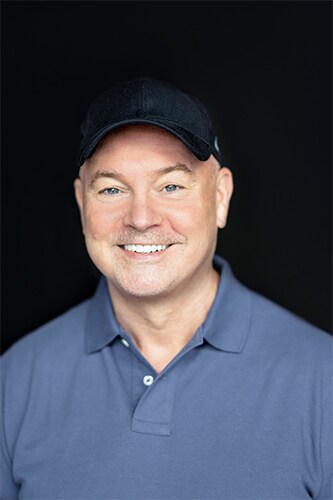 Matt West
As for his lifelong association with Disney, it seems destined to continue for a long while yet. "When Thomas Schumacher [president of Disney Theatrical Productions] introduced me as the director of Beauty and the Beast, he said I'd been part of the Disney family for such a long time," says West. "And it made me realise that's exactly how it feels. We're just like a family."
When it comes to his love of performance in general, West's really is a tale as old as time. He recounts that when he was very young he would watch the Ed Sullivan Show and "scream every time an act came on to sing or dance".
"So finally my father told my mother to put me into some kind of class, because he thought I'd get over it," he adds with a smile. "Well guess what, decades later I'm still not over it."
'Beauty and the Beast the Musical' has added three new cities to the tour schedule: Birmingham, Sunderland and Manchester. You can book tickets for these – as well as Liverpool, Edinburgh and Cardiff, with Disney Tickets.