Actor Louis Gaunt shares more about his connection to Mary Poppins and his journey to becoming a part of the musical at the Prince Edward Theatre.
There's something particularly endearing and relatable about Herbert Alfred (a.k.a Bert).
The much-loved Mary Poppins character is known as the loveable deuteragonist in the iconic film and stage show, who is a jack-of-all-trades, energetic and fun-loving friend of Mary Poppins who is always looking on the bright side of life while equally being a voice of reason.
But beyond the recognisable Cockney accent and entertaining nature, lies a character who is able to appreciate the little details in life that often goes unnoticed, while bringing magic wherever he goes and lettering his inner child shine through - something that actor Louis Gaunt can relate to.
"I can really relate to Bert as a person, '' says Gaunt, who will be taking on the role of Bert in Mary Poppins at the Prince Edward Theatre in June.
The stage production, which opened in London 17 years ago, has run over 1,250 performances, winning two Olivier Awards and an Evening Standard Award, proving that the magic of the story brilliantly adapted from the stories by PL Travers continues to ring true today, and in particular, the character of Bert who is both loveable and relatable.
"He is someone who appreciates the small things in life and he takes an investment in relationships and that's something that I am definitely really passionate about," says Gaunt.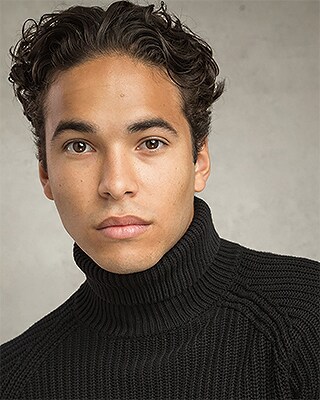 Louis Gaunt
"That's the sort of simplicity that I want for my life."
Gaunt's love of Mary Poppins began when he was a child and first watched the 1964 film starring Julie Andrews and Dick Van Dyke.
"I remember watching the film and seeing all these people flying over rooftops and it was just such an exhilarating thing to see," he recalls. "That was my most treasured memory of the film back then and it really stuck with me. And Bert's character in particular, resonated with me. He's just grateful to see the sunrise in the morning and to see the sunset in the evening and that's the sort of simplicity that I want for my life."
For a young Louis, who grew up with a mother who was a dance teacher and an uncle who worked in the West End for 17 years, seeing this magic play out on screen further fuelled his desire to get into performing arts.
"I grew up in Nottingham and I would come to London to watch a show and it was all really exciting - but it wasn't something that I ever really expected myself to do, but I eventually got into it and the numerous influences around me played a part in that."
"I ended up going to a performance college at 16 and then did a musical theatre course and while I initially wanted to be a dancer, I realised the stage allowed me to combine dancing, singing and acting into one."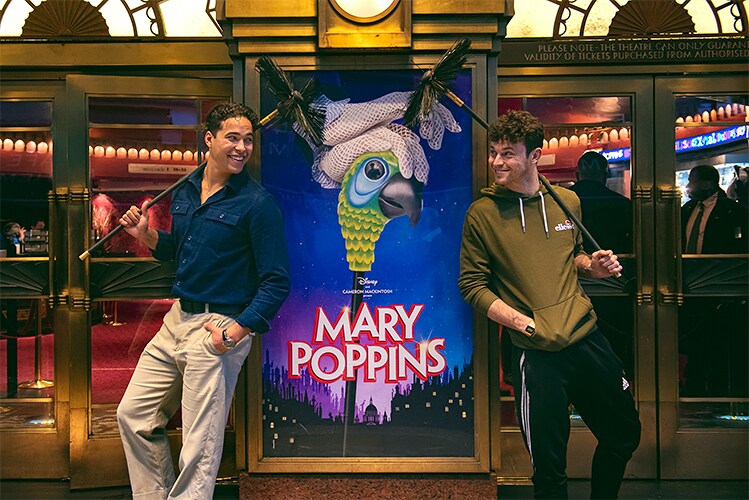 Louis Gaunt and Charlie Stemp (Bert predecessor) in front of the Prince Edward Theatre.
"I can really let 10-year-old Louis feel free."
After three years at theatre college, Gaunt began to work in the industry and has graced the stages of classic favourites including Grease and Sleeping Beauty, along with a role in Bridgerton, and his turn as Bert in Mary Poppins which he describes as a "pinch-me moment".
"To be in this position and to get the opportunity to express myself in something that has inspired me since I was young is amazing and I'm just excited. It's nice to be able to do a role where the little kid in you can constantly be out like I can and I can really let 10-year-old Louis feel free."
That child-like nature Louis connects to is clearly seen through Bert, who bonds with both children and adults alike - something that Gaunt is keen to convey and has been working on throughout the rehearsal process.
"The rehearsals are where you grow the most and I love to expand and get new things under my belt," he says.
"I've made mistakes, I've had revelations, I've discovered things and that's part of the beauty of rehearsals. But it comes with different challenges as you have that transition period where things tend to unravel and then work out gradually."
The work that Gaunt puts into perfecting the role of Bert is understandable given the love people have for the character but also the immense physicality it takes to play this character.
"I've not done a musical for over two years so making sure I'm as fit as possible so that I can do these eight shows a week is important and are some of the challenges I'm facing right now," he shares.
"But the journey you get to go on through that process is amazing, especially when it gets to the point where we're finally performing in front of an audience."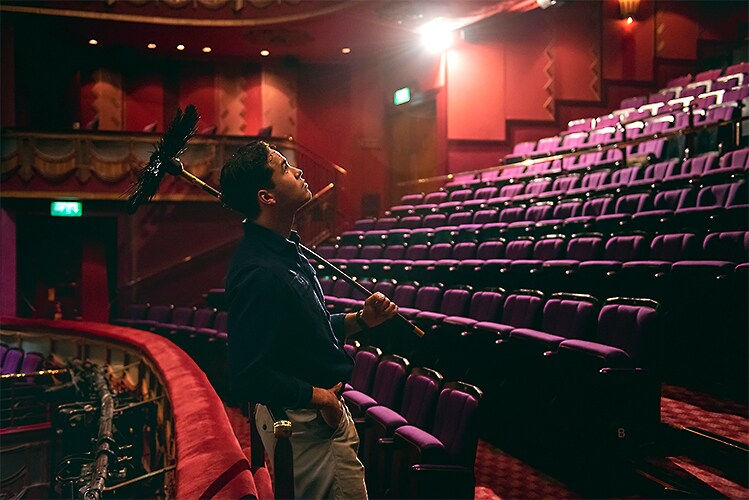 Louis Gaunt at the Prince Edward Theatre.
"To see these characters live is a real rollercoaster ride."
And the process behind the stage production is something to behold. From rehearsals right down to set design, the magic of Mary Poppins is just as much behind the stage as it is in front of it.
"The film is beautiful and you can really connect to it, but there's something about being in an auditorium and seeing it come to life. There are some magical moments that happen within the show and to see these characters live is a real rollercoaster ride as a viewer and a performer."
"Also, I think there's beauty in being in the theatre after two years of a pandemic, to sit, enjoy and feel connected is amazing, particularly with the audience."
Audiences who are able to witness the magic of Mary Poppins live are truly in for a massive stage production. But the thing that is truly endearing is the way the story continues to connect to millions around the world, showing the true universality of Mary Poppins.
"It's such a relatable story and there is something for everyone in this show, and that is the magic of theatre."
See Mary Poppins the Musical in the West End at the Prince Edward Theatre. Secure your tickets today and book with Disney's official box office, Disney Tickets.