David Mahoney will be conducting Disney and Pixar's 'Toy Story in Concert' across the UK in 2022. We caught up with him to discuss the upcoming tour and his career in music.
Conductor David Mahoney started his musical career as a chorister in Llandaff Cathedral in Cardiff, near where he grew up.
Among many things, he says, the experience gave him an appreciation for working with a large group of musicians - something that would stay with him. "I like to think I'm still as angelic now as I was back then," he adds with a smile.
Having graduated with a degree in music from Oxford, where he was a choral scholar, Mahoney got his first taste of the spotlight as a member of Only Men Aloud, a singing group that won the BBC's Last Choir Standing competition back in 2008 and went on to win a Classical Brit Award.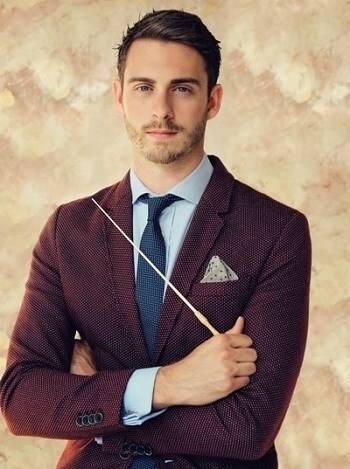 David Mahoney
"That was my intro into showbiz and to the music industry," he says. "It led to meetings with lots of promoters and record labels and that, in turn, led me to working with Disney."
It's been a whirlwind few years, during time which he has witnessed the fast growth of the 'films in concert' genre.
"These events are so exciting," he says. "They combine film titles that people know and love but with the added energy and excitement that 60 musicians add. I think that's why they have proved so popular."
For his next challenge, he is taking on Toy Story, one of the most iconic films in the Disney and Pixar universe. He is relishing the opportunity.
"Toy Story really stands out"
"All the Pixar stuff is amazing, but Toy Story really stands out," he says. "The moment I told the orchestra we were doing it they just jumped at it. The film is so iconic and we've all grown up with it - plus we also get the chance to do it first, as this is the UK premiere."
Randy Newman's score has become legendary, thanks in no small part to the popularity of the title song "You've Got a Friend in Me", which became the series' theme. But Mahoney says there are a wealth of orchestral treasures.
"I think a lot of the other music in Toy Story is so cleverly written that it's almost embedded in the film, so people don't notice it so much. But it's proper symphonic stuff. And it's difficult - Toy Story is among the hardest things we play. Randy Newman is just a genius."
As with any film in concert, he is acutely aware of the importance of staying in sync. "It requires enormous concentration from all of us," he says. "One momentary drop in focus can be disastrous."
To help him keep time, Mahoney has a monitor in his podium that shows him the film along with a series of 'punches and streamers', a long-established system that orchestras use when recording soundtracks.
"I see these flashing circles that mark the start of every bar, then there are lines that move left to right indicating the big points that I have to hit," Mahoney explains. "On top of that I also have a click track in my ear, to make sure that everything is really accurate. It's obviously very important we sync exactly."
He is all too aware of the perils if the rhythm is off, particularly considering there is dialogue and singing they must accompany as well as the action. "If we do come out of sync it's really difficult to rescue," he says. "Fortunately to date we haven't had any issues."
But that's not to say there haven't been mishaps. He recalls conducting a Beauty and the Beast concert a few years ago when an electrical malfunction meant all the lights on the music stands cut out, meaning the orchestra was plunged into darkness. The film had to be stopped, but Mahoney was able to rescue the situation by leading the audience in an impromptu singalong of Alan Menken's much-loved songs.
"It was one of the most memorable moments of my career - the applause we got at the end of the show is something I'll never forget," he says. "It turned out so well I wondered if we should start doing it deliberately!"
Mahoney is passionate about film scores, to the extent he argues they should be considered on a par with the likes of Mozart and Beethoven. "The richness of the melodies and the harmonies is incredible, and then you consider the fact it's been created to such a strict brief - it just baffles me that these composers can do that."
"You take the music for granted when you're watching a film"
He adds that one major reason they don't get the credit they deserve is the old adage that if a film score is doing its job, the audience shouldn't notice it's there. As he puts it: "You take the music for granted when you're watching a film." But playing it live with an orchestra is a great way to foreground the music, and Mahoney hopes it goes someway to it receiving its due recognition.
He particularly appreciates the ability of film scores to widen the audience for orchestras, something that seems acutely important in the wake of the pandemic. Like most musicians Mahoney and his colleagues found themselves suddenly out of work when the lockdown came in, with the once full diary looking worryingly empty.
"I know lots of players who had to find other forms of income," he says. "The leader of my percussion section, for example, was working as a delivery driver, while a lot of people took on teaching jobs." But now they are all relishing the prospect of getting back to what they love, sharing the brilliance of film music with the world.
"I'm so excited to play these amazing scores again, just to see the reaction," Mahoney enthuses. "I really can't wait for audiences to be a part of that again."
Tickets are available now for 'Toy Story in Concert' dates across the UK in February 2022. Disney and Pixar's Toy Story in Concert is presented by Senbla, and performed by the Novello Orchestra conducted by David Mahoney.