We caught up with Djavan van de Fliert, who makes his West End debut as Kristoff in Frozen the Musical.
"I'm still in disbelief," says Djavan van de Fliert on being cast as Kristoff in Frozen The Musical. "When I got the call I was shocked, it took a long time to sink in," he adds. "I'm only just beginning to picture myself on that stage."
This is no surprise seeing as the role marks not just his West End debut, but also his first professional acting job. He was cast during his final year at the prestigious Arts Educational (ArtsEd) drama school.
The 23-year-old says he was a "late bloomer" when it came to acting. Both his parents were in a band, and he describes music as the "driving force" in the family home. They were initially based in Brussels and then moved to Mexico, Peru and the Netherlands.
"It just unlocked something in me."
But despite having an eclectic range of musical influences, he reveals he didn't discover musical theatre until he was 16 and went to see a production of Billy Elliot. "It just unlocked something in me. I was on cloud nine after seeing it, and then every holiday became about seeing as many shows as I could, playing catch up."
Fast forward three years and he had enrolled into law school, but after getting cast as a lead role in an amateur-dramatics musical production, decided he would try his luck at drama school. "I'd never danced before, so my technique wasn't there. It was all about whether the school could see something in me." Fortunately, they did.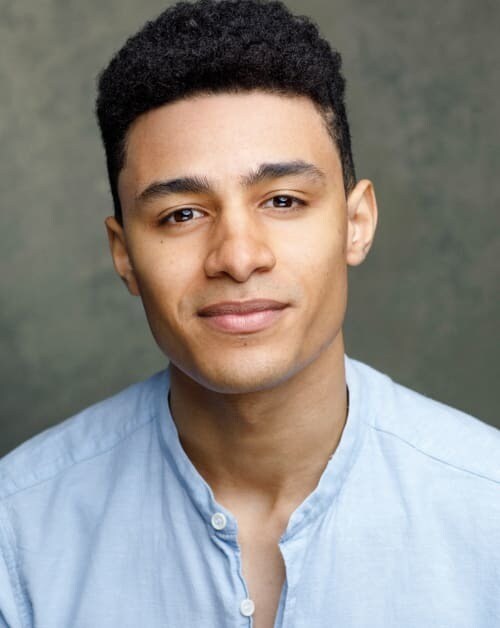 Djavan van de Fliert

"It was so grand and magical."
He first saw Frozen on Broadway in 2019. "It was so grand and magical," he says. "Then I rewatched the show [in London] earlier this year and it was even bigger and better. I was completely blown away by it, though never dared to imagine I would be in it."
Emily Lane, who is currently second cover for Anna, is stepping into the role full-time when he joins the cast. Djavan already knows her capabilities, having been at the same drama school. "I've been a fan of hers since my first year, when I had the pleasure to see her play Elle Woods in Legally Blonde [at ArtsEd]. It's amazing that two years later I get to work with her."
So what does he make of his new character? "Kristoff is a guy with set ideas. He thinks he knows what he wants, but discovers through the story that he might not. His meeting with Anna takes him aback, because suddenly he has these feelings he didn't know were there. It changes his worldview."
The other great love of Kristoff's life is Sven, a reindeer he considers to be "better than people". The show expands their backstory, and highlights just how important they are to each other, having met while Kristoff was being raised as an orphan by the Hidden Folk. "Sven is Kristoff's everything," says Djavan. "He's just his best ever buddy."
"My goal as a performer is always to bring joy."
It's a role that demands both physical and vocal prowess, but Djavan is ready for the challenge. He says he's proud to be joining an illustrious list of Dutch performers who have starred in the West End, including Willemijn Verkaik and Celinde Schoenmaker. He also names Ramin Karimloo, Hadley Fraser and Rob Houchen as leading men he is keen to emulate.
"My goal as a performer is always to bring joy, and take audiences to a happy place," he says with a smile. "That's the great thing about performing in Frozen, the chance to take people to a safe and happy place for a while, and feel a sense of genuine escapism. There is no better feeling."
Find out more about Frozen the Musical and secure your tickets today for West End performances up until March 2023.