Meet the two directors bringing Bedknobs and Broomsticks to life on stage across the UK in 2021-22!
Bedknobs and Broomsticks holds an important place in the childhood memories of so many of us. Whether first seen in a cinema in the early 1970s, or subsequently on TV, VHS or Disney+, the musical has charmed its way into the hearts of millions. So the task of transposing it to the stage, 50 years after it was first released, is certainly not a small one.
Fortunately, it's being overseen by two directors perfectly equipped for the job - and well aware of its importance. Candice Edmunds and Jamie Harrison first met at university and have forged a fruitful collaboration ever since, staging a raft of innovative and award-winning productions with their company Vox Motus.
"We were so excited to get the phone call from Disney"
"We were so excited to get the phone call from Disney," says Harrison. "We both love the film, and this show completely fits with our style and what we like to bring to the theatre. It just felt like the perfect project for Candice and I."
So, how to retell Bedknobs and Broomsticks in 2021? They reveal that they have thought a lot about the adoptive family at the core of the story, which focuses on the three Rawlins children who are evacuated from London to the Dorset coast during the Second World War. "For us, the musical is very much about finding that feeling of belonging," explains Edmunds. "At the heart of it all is this central question of family, and why it's important to us."
She points out that this issue is especially pertinent today, when the notion of what comprises a family is fast evolving. There are also resonances in people having to adapt to a new reality in a crisis. "It's that sense of being thrust out of your usual space and routine and having to make yourself comfortable with a new way of living," she says. "We have all had to do that recently."
Alongside these thematic concerns, it's a story that contains, of course, a lot of magic, including the iconic twisting bedknob and the broomstick that first carries would-be witch Eglantine Price - memorably created on screen by Angela Lansbury - falteringly skywards.
The pair feel very at home in this realm. Harrison in fact started out as a magician and illusionist, inspired by a stint in hospital as a child when a friend's mum bought him a magic set. He says he "hid" this part of himself when he first met Edmunds at college in Glasgow, fearing she would think negatively of it. But in fact, the opposite was true, and they soon realised they were creative kindred spirits.
"I grew up in southeast Queensland in Australia," says Edmunds. "When I came to Glasgow and met Jamie it was the real beginning of my theatre education. We soon became fixated on the idea of starting our own company and making our own work."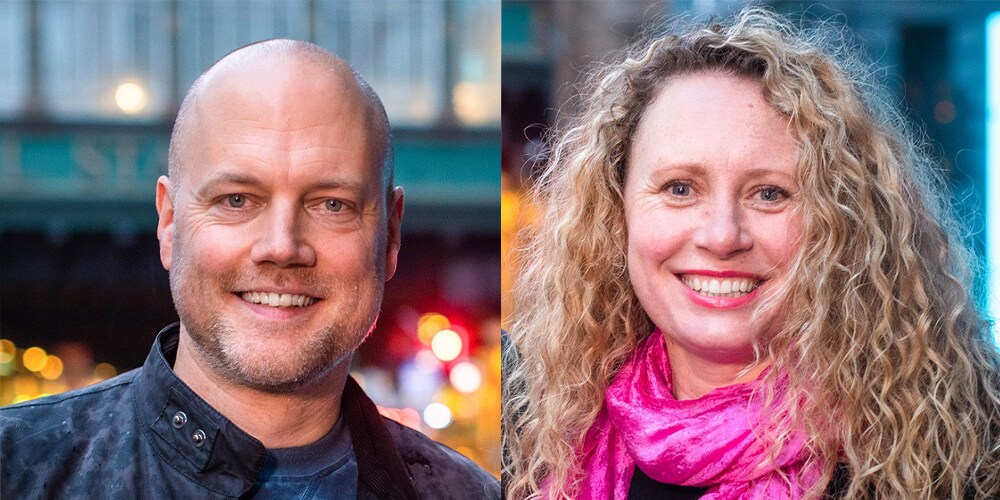 Jamie Harrison and Candice Edmunds
Since founding Vox Motus - which means 'Voice and Movement' - in 2003 they have co-created productions including Dragon, about a boy coming to terms with the death of his mother through a meeting with a mythical beast, and most recently Flight, the story of two young Afghan refugees told entirely using miniature model boxes. The latter won a coveted Herald Angel Award at the Edinburgh Fringe, and featured in The New York Times's list of 'Unforgettable Theatre Moments of 2018'.
They have also worked successfully on their own: Harrison created the illusions for Harry Potter and the Cursed Child in the West End, while Edmunds has directed at venues ranging from Glasgow's Citizens Theatre to the Wuppertaler Bühnen Opera in Germany.
But it's together that they have made the majority of their work. Creative double-acts are hardly new, but it's refreshing to see one forged between directors, which can often be a very solitary job. Both Harrison and Edmunds agree that having someone to bounce ideas off and collaborate with on all areas of a production is a huge boon.
This is most obvious in the rehearsal room, where they have been working fastidiously with the cast of Bedknobs and Broomsticks - which includes Dianne Pilkington as Eglantine and Charles Brunton as her magic teacher Emelius Browne - to create the show from the ground up.
"Everyone in the company gets involved in every aspect"
"We make work that is very ensemble based, so everyone in the company gets involved in every aspect of the production," says Harrison. "We've been really lucky to find such a lovely, characterful and generous group of performers. Everyone has been enthusiastically helping us make props and experiment with magic. There are going to be some real 'wow' moments."
And they have no reservations when it comes to the actors stepping into such iconic Disney roles. "You've got to make it its own thing, and allow the cast to make their own discoveries about these characters," says Edmunds. "Obviously there's only one Angela Lansbury, so there's no point trying to replicate that - instead you have to expand and create something new and surprising."
That word 'surprising' seems to be the hallmark of their work to date. No two of their productions are alike, and each seems to draw on a huge range of influences. They are endlessly adaptable directors, for whom ingenuity is second nature. Which is precisely why Disney sought them out for Bedknobs and Broomsticks, a piece all about the power of creativity and imagination.
Then of course there is the music. With a score by the legendary Sherman Brothers, including 'Portobello Road', 'The Age of Not Believing' and 'The Beautiful Briny', and new music and lyrics by Neil Bartram, there are no shortage of earworms to enjoy.
"The songs are so catchy that a week after the workshop I was still singing them out loud on the street," reveals Harrison. "We've used music a lot in our productions over the years, so we're very comfortable collaborating with musicians. We've worked very closely with Neil and Brian Hill, who wrote the book, and formed a really nice unit."
Another source of enjoyment is the fact the show will be touring, something that has always been at the heart of their work.
"To take something that is really artistically ambitious to as wide an audience as possible has always been our mission"
"The fact this show is going to be taken around the country, to audiences who may not be able to access work in the West End or on Broadway, is really special," says Harrison. "After all, it's that kind of work that inspired both of us to get into theatre in the first place." Edmunds concurs. "To take something that is really artistically ambitious to as wide an audience as possible has always been our mission."
Hopefully, she adds, some of those who see Bedknobs and Broomsticks "will get the theatre bug themselves" after seeing it. Now that really would be magic. But in the meantime, they must get back to the rehearsal room.
Bedknobs and Broomsticks is touring the UK in 2021-22, with 27 locations on sale now! Get your tickets to experience the magic first-hand.